2022 SPI Industry Benchmark
Are you leaving your competitors trailing behind?
How does your company perform compared to similar companies within the professional services industry?
The annual Professional Services Maturity Benchmark is recognised as the industry's most thorough study. It benchmarks 540 international companies based on their KPIs.
Get access to the complete benchmark
Download the complete benchmark + our Executive Summary by filling out the form now.
Which KPIs lead you to faster growth?
See trends and results for the professional services industry across 100+ KPIs, including:
Billable utilisation
Revenue growth
EBITDA
Attrition
Project contribution ratio
Bid-to-win ratio on offers
Maturity index / performance KPIs
... and many more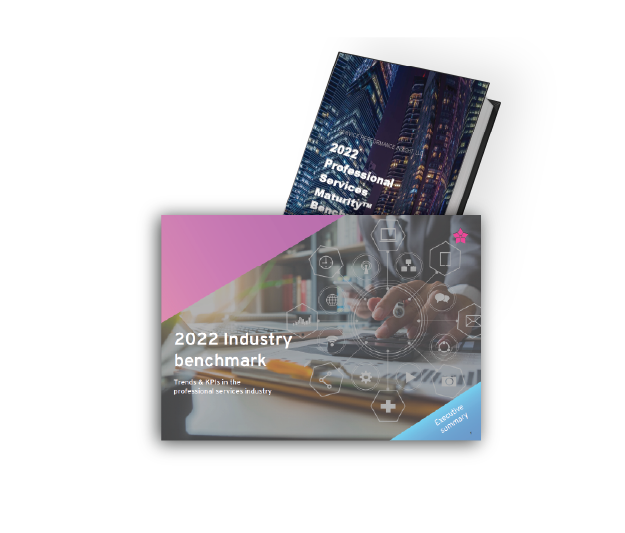 Bonus: Executive Summary
Download the full 217 page benchmark + get quick insights in the Executive Summary.
We have extracted the essential KPIs in our Executive Summary and made it easy for you to get an overview of the industry's performance.
As a special deal, we have made both resources available for free (normal price is $ 1,995)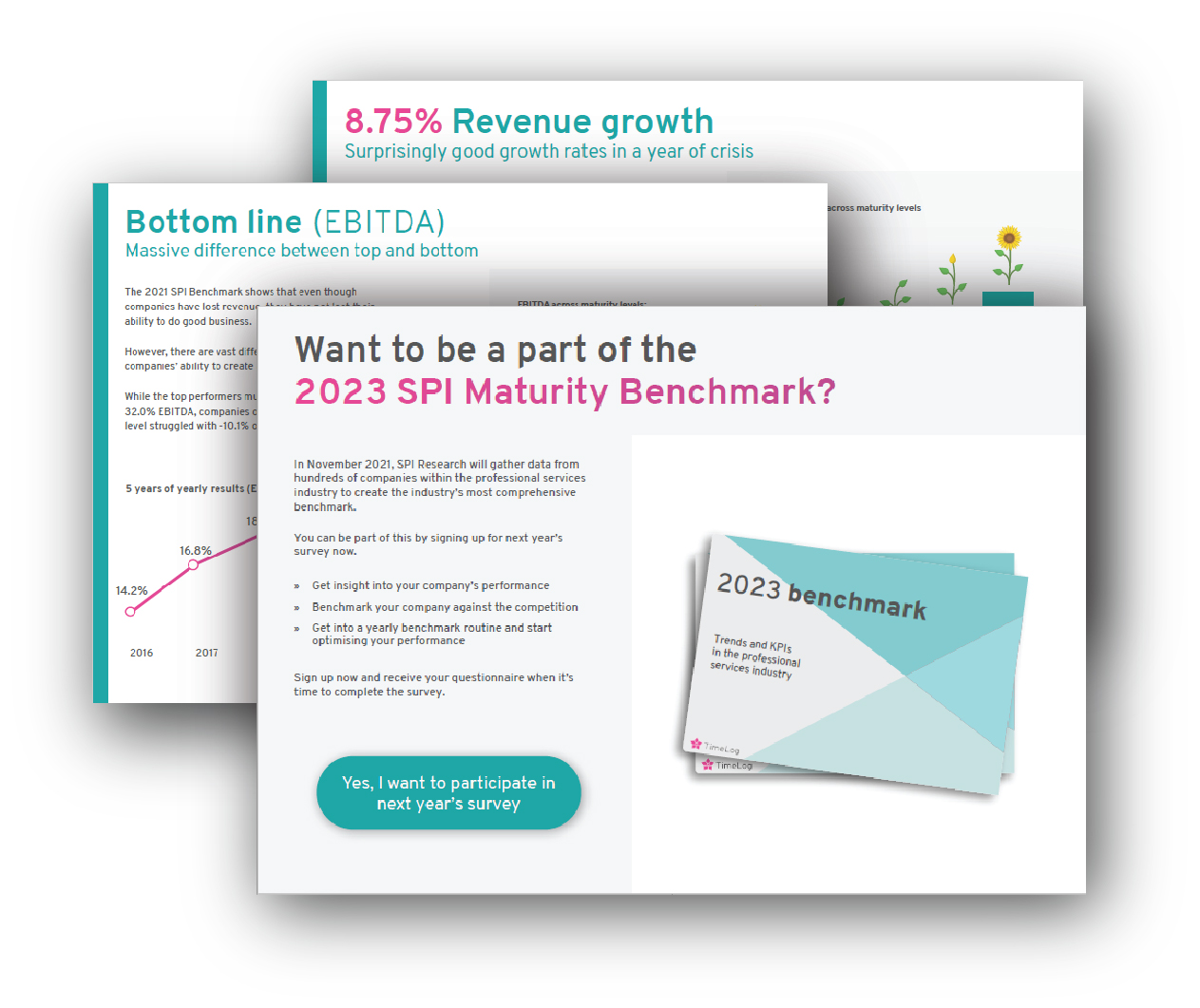 Increase your profit with SPI's maturity model
The maturity model is divided into five levels. It maps out the factors that set the best-performing companies apart.
See results quickly
Only 5% of all companies in the survey reach the highest maturity level. However, the good news is that you can increase your profits by up to 200% just by moving from level one to level two.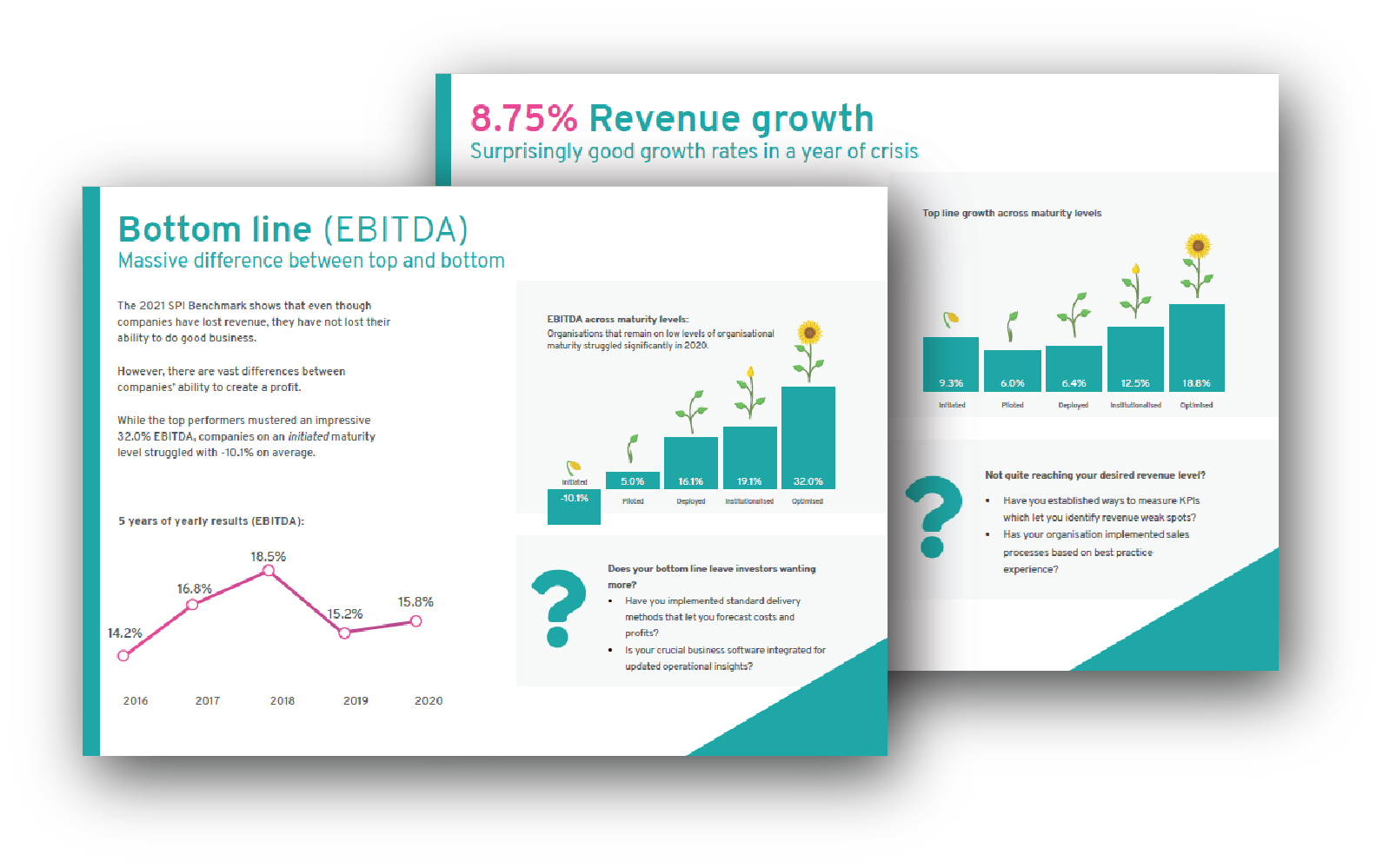 Does the consultancy industry earn money on projects again?
As a consultancy, it is crucial that your projects are profitable. Still, this is a struggle for many companies.
But what are the decisive factors when it comes to increasing the project contribution ratio?
See the 5 year trend for profit margin, differences in profit depending on the companies' maturity levels and get inspiration on how you increase the profit on your projects.
So, what are you waiting for?
Get the benchmark now
Executive summary sneak peek
⬇️